A robotic pool cleaner cleans your pool without blocking the skimmer or damaging the filter system.
We looked into the finest robotic pool cleaners on the market and compared their performance, maintenance, ease of use, and cost.
Before you begin looking into every robot pool cleaner, here are a few stuff you should consider: its cleaning cycle and compatibility with the pool's filtration system.
What to Check In Robotic Pool Cleaners
If you haven't thought about what traits you should look out for when selecting among the automatic pool cleaners available, we will help you based on these qualifications:
Components
Would you want to be able to scrub your pool by simply swiping your phone?
Do you want to set a cleaning schedule ahead of time or use a quick-cleaning option to get the work done quickly?
What qualities you want in a robotic pool cleaner should be based on your budget, the size and structure of your pool, and the quantity of trash it collects regularly.
Budget Value
The cost of a pool cleaning might vary greatly. In most cases, the greater the price tag, the more capability and attributes a product has.
When deciding how much to invest in a unit, think about the following factors:
Budget
Size of your pool
How much waste you routinely find in it
Function
Most robotic pool cleaners skim through the top surface of the pool so they can remove dirt and debris before the pool water becomes stinky.
Other robotic pool cleaners simply crawl through the poolside and onto the pool floor to collect dirt that has already sunk to the bottom.
You also have to think about the size of the filter bag that's in charge of storing all the debris, especially if trees and plants surround your pool.
Range and Mobility
Let's face it: if your robotic pool cleaner can't hit the entire surface and all the nooks and crannies, it won't be very effective at cleaning your pool.
Regarding range and maneuverability, we looked at a few key characteristics that you must evaluate when looking for the perfect match for your pool.
We started by looking for robotic cleaners with rubber tires and four-wheel drive.
Many low-cost pool cleaners include plastic tires, which are ineffective at gaining grip and moving across the bottom.
Scaling ability was another element we looked at here because those tires need to be able to scale your pool walls.
A great pool cleaner should be able to easily ascend the walls and pool stairs.
---
Dolphin Nautilus CC Plus – Best Overall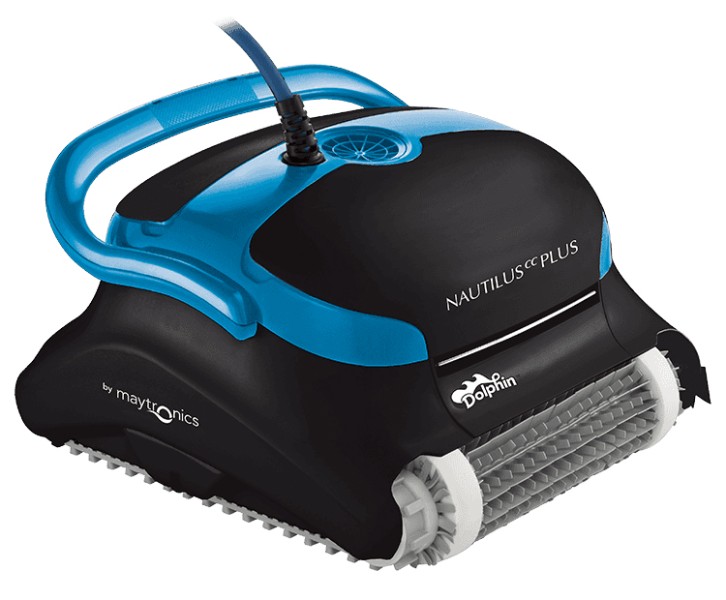 Our top pick, the Dolphin Nautilus CC Plus, provides all the capability and efficiency you'd anticipate from a robotic pool cleaner at a mid-tier pricing range.
This robotic cleaner is made for inground pools up to 50 feet long, and it cleans the entire pool in about two hours.
The Dolphin Nautilus CC Plus robotic pool cleaner has two scrubbing brushes to assist in eliminating dirt, algae, and other debris and needs no pumps or hoses.
This robot cleans the flooring of your swimming pool using clever navigation, and its clutter wire keeps it from becoming caught.
More About the Unit
The twin cartridge filters on the top of the machine are easy to empty and catch both large and small material.
According to the tester, this pool cleaner was simple to assemble and use, and it took up a significant quantity of silt and tiny leaves, petals, and bugs.
The built-in scheduler begins the cleaning cycle daily, every other day, or for three days.
However, you should take the robotic pool cleaner out after using it and wash the filter bag to remove the excess residue.
---
Pros and Cons – Dolphin Nautilus CC Plus
Pros:
Good for 50-feet pools
Clutter proof cable
Cleans pool floors in two hours
Built-in pool cleaning timer
Dual pool filter
Cons:
Not the best ground pool cleaner for stairs
The power supply isn't water-resistant
---
Dolphin Premier Robotic Pool Cleaner – Best Value
The Dolphin Premier is a smart investment if you have a large pool or simply want a pool cleaner with all the bells and whistles.
This high-end pool cleaner is ideal for inground pools up to 50 feet long, and a cleaning cycle takes around three hours.
Unlike cheaper models, this robot cleans the pool's walls and waterline, guaranteeing that every inch is free of filth and algae.
A three-filter system catches all material and keeps it out of the water.
---
Pros and Cons – Dolphin Premier Robotic Pool Cleaner
Pros:
Perfect for 50ft pools
Cables can't be tangled
Cleans walls and waterline
Has an automatic weekly scheduler
Triple filtration system
---
Aiper Smart Cordless Pool Cleaner – Best Budget Pick
Several robotic pool cleaners are pretty pricey and cost over $1,000—so if you don't want to waste a lot, the AIPER Cordless Pool Cleaner is a good option.
Unlike most robotic cleaners, this tiny robotic cleaner is a battery-powered lithium-ion battery that gives up to 50 minutes of operation for each charge.
Simply place the robot in your above- or below-ground pool, and it will navigate from wall to wall, sucking up dirt, sand, garbage, and other debris.
More About It
So when the AIPER robot is finished cleaning or runs out of battery, it comes to a halt near a pool wall, permitting you to remove it using the provided hook.
The machine can tidy up to a 15 x 35-foot pool on a single battery and recharges in three to four hours.
It may not perform as well as some further expensive versions, but it's a terrific budget-friendly option for basic pool care.
---
Pros and Cons – Aiper Smart Cordless Pool Cleaner
Pros:
Light and tight
Wireless and can rechargeable
Instantly pauses by the pool walls
Quick recharge
Cons:
Only limited to flat pool floors
Can't climb pool walls
---
Polaris 9650iq Sport Robotic Pool Cleaner
The Polaris P965iQ is Wi-Fi equipped for optimal pool cleaning efficiency, allowing you to control it directly from the iAquaLink smartphone.
Anyone can start or stop the cleaner, make personalized schedules, and even monitor when the filter needs to be cleaned with their smartphone.
Plus, thanks to its 70-foot tangle-reducing cord, this high-end robot helps clean even the biggest in-ground pool.
The machine's four-wheel-drive helps it scrub the walls, floor, and waterline, and its back water-cleaning system pushes dirt off steps and out of tight spots to be sucked up.
The P965iQ comes with a special storage container, and the unique Easy Lift removal technology propels the robot up against the wall, making it simple to remove from the water.
It's even Alexa-compatible, so you can ask your voice commands to help clean the pool for you.
---
Pros and Cons – Polaris 9650iq Sport Robotic Pool Cleaner
Pros:
Good for pools that measure up to 60ft
This robotic pool cleaner has wifi
Anti-tangle cables
The simple life removal system
Comes with a caddy/container
Good for vinyl pools
Cons:
A robotic pool vacuum that's very pricey
---
Polaris P825 Sport Robotic Pool Cleaner
The Polaris P825 Sport Robotic Pool Cleaner has a unique triangular trend to clean nearly every surface in your in-ground pool.
This pool cleaning robot can easily scrub stairwells, a cove, and even a bench, and it even cleanses the waterline.
It captures trash without sacrificing suction force and is designed for pools up to 40 feet, which makes this one of the best robot pool cleaners for
You can see inside the debris canister through the glass cover on the Polaris P825, so you know when it needs to be emptied.
Meanwhile, the Push'N'Go emptying method keeps you from touching the filter contents.
Even huge leaves and their leftovers are sucked up by the oversize intake area, and the robot comes with its caddy for easy storage.
The one significant disadvantage is that the cord might become twisted, limiting the unit's cleaning capabilities.
---
Pros and Cons – Polaris P825 Sport Robotic Pool Cleaner
Pros:
Can clean pools' coves, stairs, and waterline
Intake area that's big enough for large debris
The debris canister can easily be cleaned
Quick empty debris container
Comes with a robot caddy
Cons:
The wire can get tangled
The dirty canister indicator must be monitored
---
Aqua Products SOL AG
These best robotic pool cleaners work in above-ground pools.
This Aqua Products Sol AG Robotic Pool Cleaner is made for above-ground pools made of vinyl.
The tiny equipment can clean pools up to 30 feet wide and uses folded scrub brushes to clean the floor and coves.
The strong vacuum picks up dirt and debris, and the high-capacity container can hold bulky material like leaves.
This compact unit cleans your pool in about 2 hours, and its plug-and-play function makes it simple to set up and use right away.
The rubbish bin is simple to open, and debris can be sprayed out with the garden hose. This device is basic and lightweight in design, providing a great option for an above-ground pool.
---
Pros and Cons – Aqua Products SOL AG
Pros:
Suited for above ground pools made of vinyl
Good for pools up to 30ft
Works in a plug and play mode
---
Dolphin Triton PS Automatic Pool Cleaner
While not all robotic pool cleaners are good at sucking up leaves, the Dolphin Triton PS's top-loading filtering basket is big enough to catch even the largest waste without choking.
It also captures small debris and sand particles, keeping them from returning to the water.
This robotic cleaner is suitable for pools up to 50 feet in length and can clean your pool for as little as two hours.
More About This Robotic Pool Vacuum
This robot can clean the floor, walls, and waterline, eliminating algae and grime due to its strong wheels and high-speed folded brushes.
It has specific frequency options on a regular schedule, and the tangle-free wire keeps the power line from twisting as it operates.
The huge filter basket is simple to remove and empty, and the equipment automatically drains any water when removed from the pool, remaining material contained in the filtration.
---
Pros and Cons – Dolphin Triton PS
Pros:
Good for pools measuring 50ft
Can climb walls and waterlines
Big filter bag
Has an automatic scheduler
Cons:
The power supply shouldn't get wet
---
Instapark Betta Robotic Pool Cleaner
The best robotic pool skimmer may brush through the pool floor, including the walls.
However, the Instapark Betta is the best automatic pool surface cleaner that can float above to clear out the leaves, dust, pollen and other dirt.
This cool unit derives from solar energy for its power supply, making it cordless and won't require a battery to operate, unlike some robotic pool cleaners.
The quiet underwater motor of this robotic pool cleaner easily navigates its way around the pool. So you can leave the pool sparkling clean since it has its self-cleaning modes.
More From This Robotic Pool Vacuum
The UV-resistant shell of this robotic skimmer is unaffected by the sun, and the huge garbage basket can store a lot of leaves and branches.
You don't have to dismantle the robot to empty it; merely take the bin out through the top handle.
Using the provided remote control, you may guide the robot to a specific area for surface cleaning.
It can, however, become caught in corners or other tight spaces.
---
Pros and Cons – Instapark Betta Robotic Pool Cleaner
Pros:
Conveniently wireless and doesn't need any batteries
Removes floating debris instantly
The power supply comes from solar energy
The exterior is resistant to UV rays
The remote control feature lets the robotic pool vacuum be
Cons:
Not available internationally
Can get stuck in tight corners
---
Hayward SharkVac
The SharkVac from Hayward is a simple-to-clean robotic with a single huge, top-access filter.
Numerous size choices, like extra-large units that can filter out bigger or filthy pools, are something rivals don't always offer.
Its smart steering technology cleans a dirty pool efficiently, skimming through an inground pool within 3 hours.
---
Pros and Cons – Hayward SharkVac
Pros:
Medium size for easy transport
Suitable for a smaller pool size
You can have a clean pool in just two hours
Cons:
Cannot clean walls unless the XL size is needed
Doesn't come with a remote control
---
Frequently Asked Questions
When it comes to pool cleanliness, we only want the best robotic pool cleaners capable of skimming through any pool shape and can collect even fine dust.
Here are some of the questions pool owners frequently ask regarding pool cleaners.
What's the function of a robotic pool cleaner?
If you're bored of dragging a vacuum around your pool by hand, a robotic vacuum can do the dirty job for you, scrubbing the walls and floor of your swimming hole effortlessly. A robotic pool cleaner may be expensive, but it's the simplest for thorough pool maintenance, even on a pool floor.

Robotic cleaners don't even require a connection to a pump system because they use software programs to navigate pool surfaces with an efficient filtration system.
How durable are robotic pool vacuums?
These modern pool cleaners include many pieces and electronics, and their average life expectancy differs based on how often they are used and how well they are maintained. Most pool users will find that a robotic pool cleaner's cleaning cycle lasts at least 3 to 5 years, with some prolonging the life of their unit to 7 years or beyond.
Is a robotic pool cleaner worth it?
Yes! A robotic pool cleaner is definitely worth it, it'll save you hours and hours of work and actually does a better job than you will be able to do manually.
Can robotic pool cleaners be left in the pool?
You can leave your robotic pool cleaner in the pool for a couple of hours, but it's not meant to be left in 24/7. It severely increase its exposure to corrosive chemicals in the water such as chlorine, which leads to a reduction in lifetime.
---
Let's Recap the Top Picks
Indeed, all the products we mentioned will help get your pool all cleaned up in no time. However, these three robotic pool cleaners stood out over the rest.
Here are your BEST THREE OPTIONS!
Dolphin Nautilus CC Plus – Best Overall
This is one of the robotic pool cleaners that we recommend if you want to keep the pool clean but hands-free.
The Dolphin Nautilus CC Plus robotic pool cleaner can brush through the pool's walls, including the floor, within two hours only using its dual scrubbing brushes.
Its built-in scheduler makes things easier for pool owners who don't have the dedicated time to keep their pool clean.
Dolphin Nautilus CC Plus Description and Price
Let the Dolphin Nautilus CC Plus robotic vacuum cleaner take over your pool cleaning duties for good. Easy to use and ideal for in-ground swimming pools up to 50 feet, this cleaner will leave your pool sparkling clean in just 2 hours. Spend more time enjoying your pool and less time cleaning.
Dolphin Premier Robotic Pool Cleaner – Best Value
The Dolphin Premier is a wise investment if you have a large pool or want a pool cleaner with most gadgets and gimmicks.
This high-end pool cleaner is ideal for in-ground pools up to 50 feet long, and a cleaning cycle takes around three hours.
Except for cheaper models, the robot helps clean the pool's walls and waterline, guaranteeing that every inch is free of filth and algae.
A three-filter system catches all material and prevents it from the swimming pool.
Dolphin Premier Robotic Pool Cleaner Description and Price
Drop and go. Easy to use, single button plug and play in-ground robotic pool cleaner ideal for pools up to 50 feet; backed by a 3 year quality assurance. CleverClean delivers a smart and efficient clean using advanced algorithms for complete pool coverage. Anti-tangle patented swivel cable allows your Dolphin to move around your pool with ease. Powerful, dual scrubbing brushes forcefully attack tough dirt and debris leaving your swimming pool floor, walls and waterline exceptionally clean in 3 hours.
Aiper Smart Cordless Pool Cleaner – Best Budget Pick
The AIPER Cordless Automatic Pool Cleaner is good for those pool owners on a tight budget. Despite being lightweight, it's packed with an awesome battery power supply.
This is the best robotic pool cleaner for short-time cleaning since it can run for 50 minutes before the next recharge.
Aiper Smart Cordless Pool Cleaner Description and Price
No hose, no clutter cord, don't rely on your pool filter, this cordless automatic pool cleaner quickly cleans your 538 sq ft pool in around 50 minutes, no worrying about cord entanglement, cord damage, make the cleaning process smoother than other pool cleaner.
---
Final Thoughts
It's vital to keep the pool surface clean with the help of dual scrubbing brushes and a long-lasting cleaning cycle.
An average pool vacuum or suction side cleaners can only do so much, while robotic pool cleaners can do more for vinyl pools, plaster pools, and ground swimming pools.
Choose a piece of pool equipment that can handle any pool size with multiple filters and effectively navigates through various pool surface types.