Just when you thought replacing and repairing tiles underwater was too difficult.
Think again.
You can remedy cracked tiles without too much hassle. You just need to learn the practical ways of doing it and choose high-quality materials.
In this article, we'll give you instructions on how to replace your cracked tiles under water. You can do it yourself!
---
Why should you replace your pool tiles?
Tiles shelter your swimming pools, and it makes them attractive too.
However, your swimming pool tiles will not be that pretty for the rest of the time, especially if you don't routinely maintain them.
Sooner, you will encounter issues like fractures in the swimming pool tile, build-up of dirt, and damage to the tile grout.
In these cases, it's time to look for new tiles or repair your swimming pool tiles.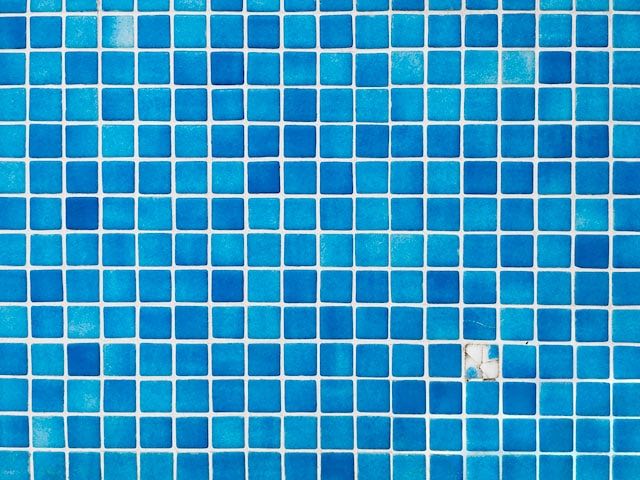 1: Tiles are falling-off
Drastic temperature changes can cause the pool tile to get loose.
You can try to fix this if the sludge has yet to appear with the pool tile.
However, if the sludge has come off, replacing pool tiles is one way to restore it.
2: White deposits
The high pH and alkalinity cause white deposits on the pool tile.
There's also called efflorescence; this is when the mineral salts and magnesium appear from the setting mud and accumulation on the tile.
These can be washed away. You can drop the water line and remove the mineral deposits using a stiff brush.
However, you will need to change them when you cannot burn the accumulation through acid wash.
3: Unpleasant to look at
If you haven't been in your swimming pool for quite a long time, eventually, it wears out and will look faded and unappealing, and you don't want your guests to look at tacky pools.
It's time to look for new pool tiles. You can always choose unique colors at your local pool stores.
Your swimming pool needs a makeover too!
4: Chipped tiles
Broken pool tiles can impair the entire pool. This usually happens when there's beam damage caused by the lack of a proper expansion joint.
If your tiles are not frost-free, they can cause fragments and cracks caused by the cold water pressing against the tile during extension.
You must fix these cracked tiles immediately to maintain their look.
5: Not placed properly
If the pool tile is not placed properly or the materials used are substandard, it can fall easily.
So, it is equally important to use good quality adhesives and sealants.
If you're struggling with these problems, you can call a pool service company to assess its condition and if it should need pool tile repair.
---
How to replace swimming pool tiles underwater
A few broken tiles can wreck your entire pool as they can cause leakage in a large area. So, it is better to diagnose the problem early on and address missing chunks.
Of course, we will help you mend these issues regarding your swimming pools.
Step 1: Drain the pool
If you have plenty to repair or won't use marine epoxy to attach your tiles (see above video if you prefer not to drain), you must drain the pool beneath the tile you aim to repair.
To drain under the skimmer, use a submersible pump and allow it to drain for about six inches below the tiles you are replacing.
You can also drain your pool using a filter system.
Note that draining water from your pool has an additional cost for the pool water and is a bit time-consuming.
Step 2: Detach the tiles
If the tiles are cracked, you must take them out completely. If the tiles fall, search for more loose tiles and pull them out too.
To remove grout around the outside of the tile, use a hand grout removal tool or an electric tool. Then, start by scraping between the tiles using your tool.
You can also remove them using a hammer and chisel. If the space between them is too thin for the chisel, try a large flat-head screwdriver.
Don't detach the tile from the surface in one rapid hit, but give the chisel gentle taps. This will reduce the risk of creating large cracks. You can reuse the original tile if you can.
Check the cement beneath it and look for any damage. You may find fissures in the pool wall.
You can use the chisel or screwdriver to remove the loose cement, smooth out the flat surface, and fill in any cracks behind the tile.
Step 3: Compatible pool tiles
After you prepare your surface, look for a matching pool tile.
Here are some ways to simplify your search for a new tile:
Search your house and see if you can still find leftover original tiles from the initial installation.
Contact your contractor and ask for the exact color and if it's unavailable, send them photos of some of your palette and ask for suggestions.
Go online and look for the exact shades and counterparts. You can even use Amazon to search for the specific tile.
If you fancy custom-made tiles, you should splurge a bit to achieve the perfect color.
Step 4: Glue pool tiles
So when you glue pool tiles, this will rely on the special adhesives you'll use.
The use of silicon adhesive is a fast setting since you will have to put the silicon at the back of the tile and fix them in place.
You can also use a marine epoxy putty adhesive applicable for underwater repairs.
Cut off a small amount of the epoxy and knead it into your hands, then apply it at the back of the tile. This will hold them in place.
Lastly, you can use cement-based tile adhesive. Mix it in a cement bonder additive, then add water to make a paste. You can apply it to the surface for small and large areas.
Regardless of the methods you use, consistently inspect them for a few hours to ensure they are in place.
Step 5: Apply pool tile grout
Use a high-quality thin set mortar and a waterproof or epoxy grout!
Though you will only need a small grout, try to fill your tiling correctly, so it doesn't cause overflow.
Surround each tile and ensure the gap between them is filled in.
Do not get confused between the thin set mortar and grout because they have different formulas. The thin set is used to adhere the tile, while grouts fill the gaps between them.
---
Conclusion
Re-tiling can be tough at first because you need to figure out where to start, especially if that's under water.
But you should know by now the simple steps and materials to use, which come with a relatively inexpensive cost.
Repair tiles as soon as possible because small cracks can damage your pool.
---
FAQ – Replace swimming pool tiles underwater
Here is some additional information that may come in handy.
Can you replace pool tiles without draining the pool?
Yes, you can fix them without fully draining the water. Use marine epoxy for this repair, but you might need a snorkel.
Can you stick pool tiles underwater?
Yes. There are plenty of sealants that can cure underwater. Watch this video Underwater Tile Repair and learn how to stick tiles underwater.
Can you grout an underwater tile?
Yes, but you must apply dry, thin-set mortar using a notched trowel and suitable grout under water. The grout for underwater is hydraulic cement, which is widely available in the market.
How do you fix pool tiles that have fallen off?
Find a thin-set mortar or plaster mix that can endure wet surfaces and be submerged in water. Apply the mortar at the tile bed and back of the tile, then let it sit for 24 hours.
Is it hard to replace pool tiles?
It's easy to repair the pool tile and coping stones since the old grout has something to do with the pool's issues.
We suggest draining the water before doing the small batches since you don't want it to invade the grout.
What adhesive can be used underwater?
You can use marine epoxy as a permanent and waterproof adhesive. This is effective for surfaces that need high bonding strength.
Can you patch the bottom of the above-ground pool with water in it?
Yes, you can do this using a pool liner patch, but do this quickly because the pool will keep draining until it gets into the hole level.