For some people, SUMMER is the best time of the year. It's a time to go on picnics, eat a lot of ice cream, and go on many trips to the beach. Summer symbolizes a lot of fun, relaxation, and freedom!
Personally, the summer season isn't my favorite. The sweltering heat and the smell of sweat aren't the best. The bugs are all out during the hot season as well.
But, the good news is that it's pool season! So, for us, swimming is necessary for a fun summer. It's the saving grace of this hot season.
Lounging in the pool water lets us forget the horrible heat. Plus, time in the pool is great for family and friends.
Check this article to know what accessories to bring to your next trip to the pool.
---
Pool Toys Category
Pool toys are perfect for KILLING TIME in the pool. This is especially true if you're like us, who enjoy spending time in the water.
Here are the top 8 fun pool toys we've seen this year!
1. GoPong Pool Longue Floating Beer Pong Table
This 6-foot floating beer pong table is perfect for all your group activities. It comes with the following features:
Sideline cup holders
6 pong balls
4 tethering grommets
Everyone will enjoy playing this POPULAR PARTY GAME for long hours. If you and your friends get tired of the drinking part, this can be used as a regular inflatable pool float.
It can double as party drink holders as well!
---
2. Inflatable Volleyball Net
Both kids and adults will enjoy pool sports with this inflatable volleyball game. The volleyball game set usually comes with an inflatable basketball ring too!
What a time for fun water ball games.
This inflatable pool toy is the PERFECT BEGINNING GAME for every pool party. It's easy to assemble, simple to play, and a fun group activity.
Find out who among your group is best at both ball games and swimming!
---
3. Ring Toss Game
Anyone who thinks the ring toss game is FOR KIDS sure hasn't tried the tossing games (and a lot of other fun pool toys).
The ring toss game can be played both on and off the pool. Try to bet on which of the adults are best at shooting these rings.
It's a FUN BREAK from conventional inflatable games.
It's not as physically rewarding as well. You'd get the right amount of play.
---
4. Inflatable Pool Poker Set With Table & Chairs
Shoutout to our friends who cannot separate themselves from a poker game.
Poker fanatics will enjoy this classic game while floating in the pool. Some sets come with 2 to 4 pool lounge chairs.
Invite your close friends and try out this cool pool toy.
---
5. Inflatable Pool Tic Tac Toe
This giant tic tac toe is a unique pool accessory. The big game area will keep you and your family playing the whole day!
Honestly, it's great as a floating pool lounge as well.
Use it to relax and cool down after a long game.
---
6. Inflatable Floating Row & Log Rafts
This floating water sports toy is probably the MOST FUN LOOKING!
Adults will relive their swordfight play as kids. Let's see who will plunge deep down the pool THE MOST.
You definitely won't be able to relax in this game. Your friend will enjoy throwing you off the log over and over again!
---
7. Waterproof Playing Cards
This is for our friends who always seem to have a deck of cards with them.
A waterproof card deck will get you a relaxing game if you're tired of all the physical water sports.
These card games even come with a FLOATING CARD TABLE.
If you don't like standard card games, a waterproof version of Uno's popular card game is also available!
---
8. Floating Ping Pong
The floating ping-pong table will take your pool party to the NEXT LEVEL.
You can play this water table tennis game in the pool or bring it poolside in the backyard. If you're a competitive person, this game won't be as relaxing as it is exciting!
Once the adults are done with this competitive game, the kids can also go at it.
It's for everyone!
---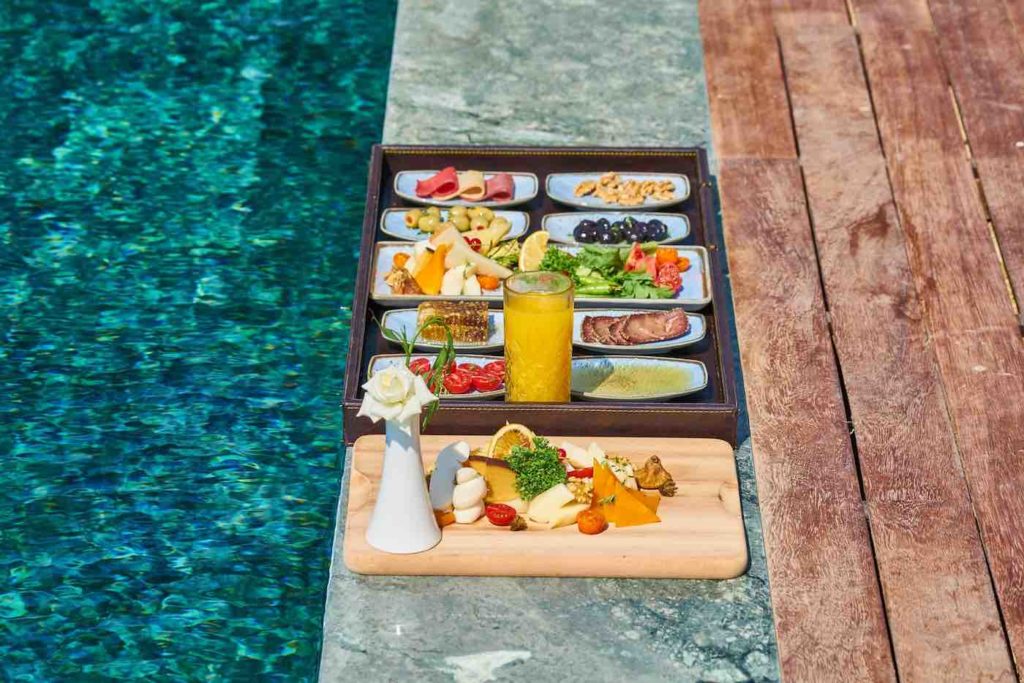 Drinks & Food Category
As kids, we loved swimming and swimming until we passed out to sleep. But as adults, we're almost always out of energy.
Pool accessories won't be complete without the inflatable ring holders for food and drinks.
We love to bring our snacks on the water as we float and lounge around. After all, relaxation isn't complete without food!
1. Inflatable Flamingo Drink Holders
Everybody loves the flamingo floating drink holders. It's tiring to keep jumping out of the pool to get some soda (or beer!)
This is the perfect pool accessory for group conversations on the pool.
A drink holder is A MUST if you want to remain cool under the sun.
---
2. Inflatable Rainbow Party Drinks & Snacks Holder
Okay, what's better than the inflatable ring drink holder? The rainbow snacks holder!
No one would even LEAVE THE POOL anymore with the snacks and drink holder. Everybody would hang by the water all day and night.
Honestly, we love this more than any pool toy.
---
3. Floating Wine Glasses
Tell us you're an adult at the pool without telling us. Floating wine glasses are the sign of adults by the pool.
These cool wine glasses are perfect for the lounge experience.
Take your drink to the backyard, the pool deck, and even as you swim! Please keep it away from the kids with you.
---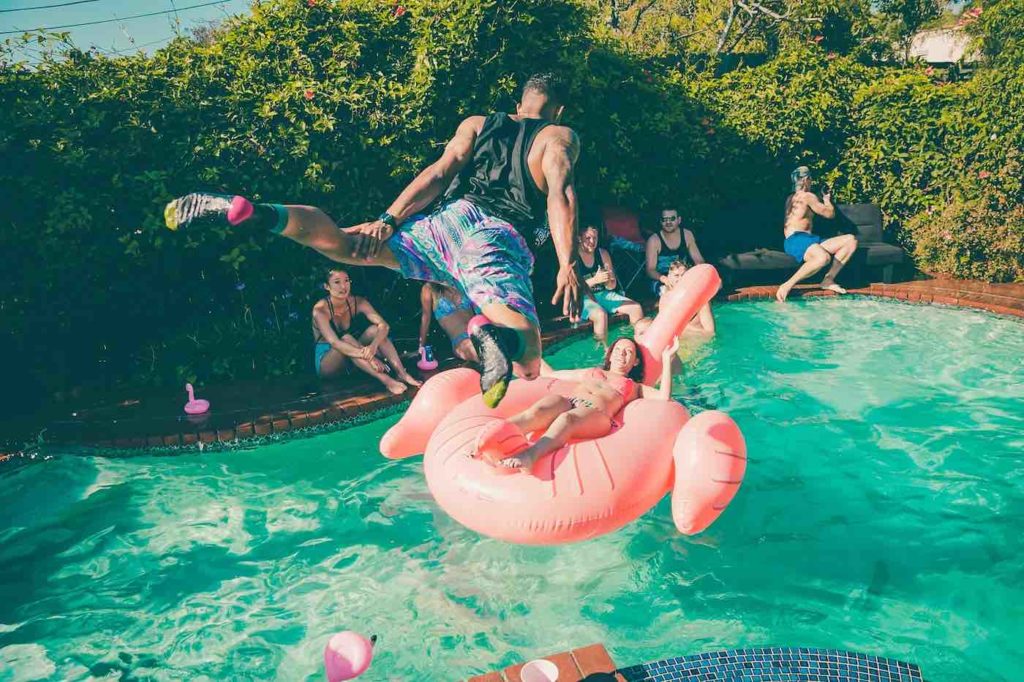 Pool Party Category
Now, this is the clear favorite of most adults.
Most people think about this category when talking about pool accessories for adults. Some of the pool toys from earlier (like the beer pong and the ring toss) can also be in this category.
These items will surely catch your attention whether you're there to swim, dive, or chill. Here are the kinds of stuff you'd want to bring with you!
1. Canopy Island Inflatable Pool Lounge
When we think about relaxation, this canopy inflatable pool lounge comes to mind.
This big pool float even comes with a detachable sunshade made of woven fabric! Throw in the shade if you feel like hiding from the sun as you lay and rest.
The canopy float also comes with a repair patch to rest easy.
This canopy float is perfect for bringing to the beach on your next trip!
---
2. Floating Portable Pool Speaker
There's NO PARTY WITHOUT MUSIC!
The volume levels of this waterproof Bluetooth speaker will take over your group's party. No need to settle for the sound system in your backyard.
Take the music with you even as you dive. How fun!
---
3. Inflatable Floating River Raft
This is the inflatable river raft of our dreams!
Imagine HOW BIG IT IS. There's room for the whole group. This is the perfect party float, maybe not on a pool. Take this when you visit other sites such as lakes and beaches.
You can bring food, drinks, water guns, and even activities for the baby and the kids.
It's so strong and durable that you can even dive from it.
---
4. Floating Pool Lights
We already have the music. Now we'll get the lights.
The party doesn't end when the sun disappears. Pool lights are perfect for ELEVATING THE MOOD. At night, the party keeps on getting better.
Match the upbeat music with mood-changing lights to hype everybody up.
---
5. Inflatable Move Screen
Take the dive-in movies to your own home!
Watch some pool-related movies while hanging out with your friends. This one's an expensive buy. But, share it with your friends, and it will be worth it.
---
The Must-Haves of Fun Pool Accessories for Adults
There are so many pool accessories to choose from! As adults with bills to pay, we simply can't afford it all.
That's okay!
To help you pick up the most fun pool accessory out of the list, here are the items we think are MUST HAVES for a FUN POOL TIME.
Floating Portable Bluetooth Speaker
Music can easily elevate any gathering. This is a must-have pool accessory because it can cater to everyone.
It's great for both kids and adults!
Everyone can take turns requesting a song of their choice. Someone can even be the DJ!
Canopy Island Inflatable Pool Lounge
We'd be lying if we didn't include this beautiful sun lounge.
It's NOT AS BIG as the river raft, and it doesn't have to be. Its size is perfect for a small family or a small group of acquaintances.
Lay comfortably while being shaded by the sun. Your cold beverage can sit tightly on the built-in cup holder.
Floating Pingpong
This one was a hard pick. Any one of the pool toys we listed above is a great game.
But, we think that floating ping pong is a must-have because IT STANDS OUT. Plus, you can play it even out of the water.
It's not as physically active as water volleyball and basketball. It's not as passive as card games too.
Get this floating table tennis table for your next pool trip.
It's WORTH THE PRICE with the included two oversized paddles. Add to that the fact that you don't have to chase the table tennis balls.
---
What Are the Factors to Look at in Buying Pool Floats?
Pool floats are CONSTANTS when thinking about pool accessories for adults. But, how do we choose from the sea of floats?
A lot of factors go into picking the right pool float. Here are some:
Weight capacity
Material and durability
Portability
Ease of Inflation
Unique features
Weight Capacity
Gone are the days when weight doesn't matter in choosing floaties. We're no longer kids.
The pool float must accommodate your weight and everyone else who wants to get on the float simultaneously.
Here's A GOOD STRATEGY for finding a float strong enough for you, your family, and your friends.
Get the average weight of your group
Count how many can fit in the pool float you want
Multiply the numbers and compare them with the float's limit
Don't forget to add some margin because we're all heavier in water
Material & Durability
Pool floaties can go anywhere from very cheap to very expensive. Whichever your choice may be, make sure the material can last you long.
Avoid buying those made of cheap plastic.
But!
It's also important not to get trapped in a marketing misconception. More expensive does not always mean more durable.
You can also consider floaties with mesh parts. Mesh panels carry you while also letting you feel the water.
A mesh pool float is the best idea on a really hot day.
Portability
Buying pool accessories mean you'd want to carry them for ADVENTURES. You won't always be in the same pool.
Lakes and beaches sound like a great adventure as well.
The pool accessory you choose must be EASY TO CARRY AROUND. Otherwise, you'll be TOO LAZY to use it at all. An unused pool accessory is not an accessory at all.
Great features that add to portability may include added handles, storage bags, and self-deflate mechanisms.
Ease of Inflation
On a lazy summer day, NOBODY wants to be stuck inflating.
Most pool accessories can be inflated easily. But, a few ones can be challenging to put air in. If you're always looking out for the next pool trip, investing in an electric pump is wise.
Remember: Larger inflatables take longer to be ready.
The best pool toys are ready in minutes. The fun can't wait!
Unique Features
We're in love with the new pool accessories every year. People keep getting more and more creative.
Here are some of my favorite features:
Cup holders / Drink holders
Removable pillows
Armrests and backrests
---
Frequently Asked Questions
Here are some know-hows for us who aren't big fans of the summer heat. If you love the hot summer days, maybe you'll learn a thing or two from these FAQs. Let us know if you have any more questions to ask!
How Are Pool Floaties Properly Cleaned?
Pool floaties are probably one of the easiest pool accessories to clean. Get a mild soap, scrub gently, and wash it off completely. Some people air-dry their floats but be careful in leaving them out in the sun.

Heat exposure can weaken the pool float's material, especially when inflated. You don't want to come back to a popped pool float. It might be better to wipe it off with a towel.
How Are Pool Floaties Stored?
Storing is A LOT EASIER than inflating. When you're done with the summer parties, deflate your pool floaties. Storing them folded and kept away lets them last longer.

Make sure you don't keep it together with sharp objects even when it's deflated. It would be best if you also chose a storage area that is DRY and free of any moisture.
Conclusion
Summertimes can be HORRIBLE because of the extreme heat levels. But!
It can also be FUN if we choose to make it.
Swimming is an excellent way to battle heat and sweat. When enjoyed with family and friends, summer can be a perfect time.
We hope this article helped you choose the next set of pool accessories you'll bring to a pool party.
That's it, enjoy the water!