Having your own pool is cool, but they also need you to clean and maintain them.
It takes effort and time for a pool owner to ensure the quality and cleanliness of the pool. One of the best ways to do it is to cover them.
This article will tell you everything about the best choices for a pool cover if your pool is above the ground. Ready? Let's dive right in!
---
Best Covers for Your Above Ground Swimming Pool
To keep your above-ground pool sparklingly clean, covers are super necessary. In this list, we will provide you with covers for all types of above-ground pools.
Continue reading to find out!
---
During the summer, an above-ground swimming pool needs a solar cover to maintain a comfortable pool temperature.
They are usually made with a thick plastic material with UV inhibitors, and they help capture the heat inside the keep the pool warm and nice. [R]
If you have a round pool cover that is 15 ft in size, you will find the Intex Easy Set Solar Cover one of the most effective above-ground pool covers.
People residing in dry and humid climates know that the sun pretty much absorbs water faster, which is why the pool cover must have heat retention features.
This one reduces evaporation by about 95 percent, which will ensure that your pool water will remain despite the heat.
Another thing that we love about this solar cover from Intex is it fits just right inside the edge of the pool. It floats in place, so you don't need to worry about it slipping!
This Canadian PMRA-registered cover for your round pool will surely do its job and beyond!
Have you ever looked at something and thought that it looks solid? Well, that's the first impression you can get from looking at this round pool cover.
Your impression is not wrong. When you compare it to other pool covers, Yankee Pool Pillow can work as both solar and winter pool covers.
With a density of 185 gsm and 14 x 14 scrim count, this one features a sealing technology that will keep your water unblemished until spring.
Did you know that the UV radiation from the winter sun is not less than the sun during the hotter months? That's why the materials outside are at the same risk of damage.
Made with low-density polyethylene (LDPE), this cover will excel at keeping your pool safe from radiation, and the black underside will prevent overgrowth.
The temperature range this pool can handle is impressive, from −10° F to 180° F. Coupled with strong fastenings, your pool and equipment will be protected all year round.
It is no wonder that this one has gotten the highest approval rating among other winter pool covers. The cost may be a bit high, but if you are looking for value for money, go for it!
It's not easy to get your swimming pool back in shape when spring arrives, and qualified products are required to ensure quality.
Aside from the high-end product we mentioned before, there are more affordable alternatives for those looking for a winter cover.
This oval pool cover has superior tensile strength that will help protect your pool from the sun and keep out debris.
It will also save you a lot of time, as it has perimeter grommets, steel cable, and a winch in your order case. When your order arrives from Amazon, it is already ready to install.
The difference with this winter pool cover is that it is excellent at handling changing and extreme weather conditions. With one look, you can already tell its outstanding durability.
Have we mentioned it is created with high-density polyethylene (HPDE)? This is more rigid and durable than LPDE.
The only downside we can see is that it is not as flexible as pool covers made with LPDE, and you will need to check if it fits right.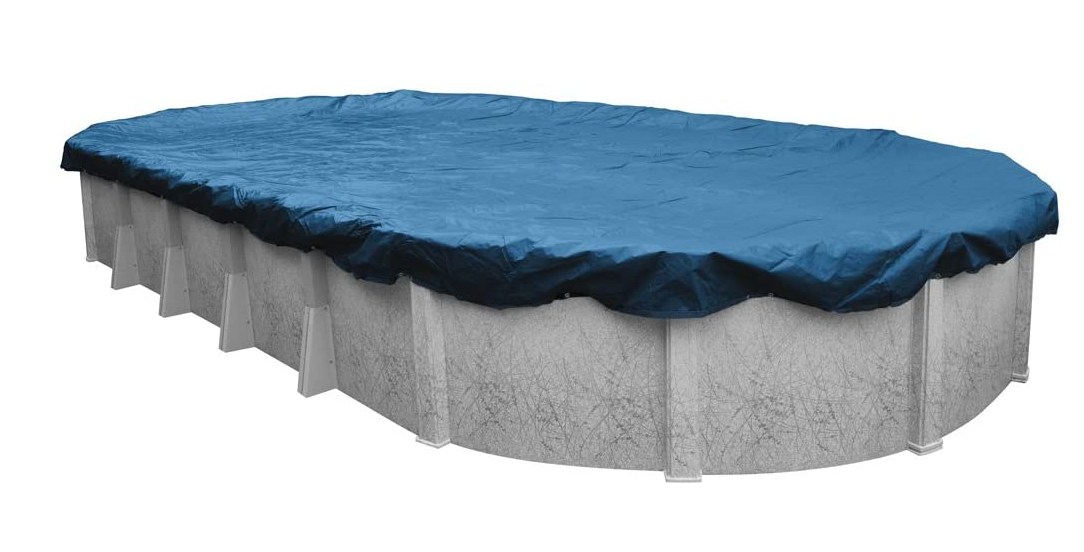 Aside from looking cozy and comfortable, the real appeal of this winter cover is its design.
Made with heavy-duty polyethylene material, this winter cover from Pool Mate will protect your pool from algae growth and ensure quality remains throughout the winter.
When you compare it with other options for oval pools, this one stands out as solid debris will not be able to pass through
It also does an excellent job of protecting the pool from radiation.
All the seams of this winter cover are heat-sealed, significantly reducing leaking and tears.
In the long run, this will save you from an even bigger cost as you don't have to replace equipment.
This above-ground swimming pool cover has a 4-foot overlap, and you will also receive other items such as the winch and cable. You can now extend the cover to improve the filter.
And to put the icing on top, it has a ten-year warranty, which says something about the quality of its safety covers.
To give you some background information, Bestway is one of the leading manufacturers of backyard pools. If you already have a Bestway pool, this is the best cover.
Have you ever noticed that the water is cool every time you enter your uncovered backyard pool?
That's because the water cools down overnight or for longer periods when you don't use it. This is why solar pool covers are so important.
These pool covers keep the heat in. Not only that, but this above-ground pool cover from Bestway can also keep the debris out of your water, especially when autumn leaves start to fall.
We love this pool cover because it can also work for an inground pool. The versatility of Bestway and its compatibility with other types of swimming pool is commendable.
You won't have to worry about having fastenings, too. Compared to other above-ground pool covers, this one is designed to float across the water's surface.
This swimming pool cover comes with a carrying bag, so you can keep it safe when you are having some fun under the sun!
If your pool is situated where the cold can get harsh during the season, any winter pool covers will not do. You will not need something extra, extra durable.
Let us introduce you to this winter pool cover from In the Swim. Compared to other above-ground pool covers, this one has triple laminated HDPE. Durability? Double-check.
The colors and sizes for this product vary, as a swimming pool comes in a variety of sizes too. But all of them are purposely designed to be larger than the size of the pool.
This is because it is better for above-ground pool covers to maximize their coverage, especially during the course of winter, when the pool must be protected.
Covers from In The Swim come with accessory items such as a cable and turnbuckle, which will wrap around the top of your swimming pool nicely.
Apart from other covers, this one gives you options. Due to its high durability, it can also be used as a safety cover for your above-ground pool. Isn't that amazing?
Perhaps one of your greatest concerns regarding above-ground pool covers is their weight. That's a valid concern, as winter pool covers are especially heavy.
But, winter pool covers from Robelle defy that stereotype. Let us tell you why.
This heavy-duty 8 x 8 scrim made of high-quality polyethylene weighs around 2.36 oz per square yard. That is groundbreaking for such a durable and long-term ground pool cover.
As you can see, it has a pretty solid material that will not let water pass through, so all the melted snow will not affect your pool water.
It also has a four-foot overlap beyond the pool size, so your above-ground pool is secured day and night. Your pool covers will protect your pool from debris and snow.
Another thing that we like about Robelle's above-ground pool covers is they offer alternatives for you. If you want additional items such as an ice equalizer, they also have them.
And to put the icing on top, these covers come in different sizes and colors. As the pool varies in size, so do these items.
---
Buying Guide for Above-Ground Pool Covers
With the number of pool covers available today, it can get pretty overwhelming for some to choose.
This section will list some factors that you can consider when buying your pool covers. Let's dive right in!
Personal Needs
You need to ask yourself, "Why am I buying a pool cover?"
Is it because you noticed that you wouldn't clean your pool all year round? Or are you simply buying to ensure the quality of the pool is maintained?
First, we need to ask this question because there are so many pools covers out there, and their variety is also excellent. The best way to choose a pool cover is to first assess your needs.
Pool specialists would recommend choosing covers based on the usual issues you need to address. Account for the issues of the pool, then choose the best pool cover from there.
Is your above-ground pool getting a lot of debris? Are you not happy when you swim because the water is cold and dusty?
We recommend that you go to an above-ground pool covers shop that offers a variety of covers and is easy to contact. This will help you when something unexpected happens.
If you are buying online and can't go to an in-person ground pool covers shop, choose a reputable store that will offer a variety of covers.
Type of Covers
As we mentioned, you can shop and order a huge variety of pool covers. Let us give you some examples of them.
First, we have the net pool covers or the leaf catchers. These are commonly used during seasons such as autumn or spring. [R]
Another type is the pool safety covers, which are meant to keep people and animals from falling into the pool accidentally. This can come in the form of mesh or a solid safety cover.
A solar cover is a specialty type of pool cover, as they are designed to keep your pool nice and warm day and night.
If you leave in places that are colder at night compared to during the day, you will immensely appreciate solar covers. You won't need to heat the pool before enjoying it now!
Winter pool covers are the other types of covers during the cold months. When you live in a place where the winter can be long and dry, this is a must-have.
Size
Pool specialists recommend that you get the proper pol cover for your pool size, with some advising that an overlapping cover might be more beneficial.
A pool cover that does not suit your pool will not work correctly, so you have to check some user reviews if you are ordering online or from a region that has a different measuring system.
We don't want you to receive things that are not suitable for you, so contact the manufacturer to ensure that the cover fits your pool.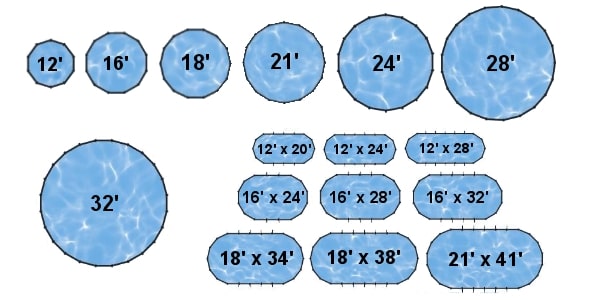 Price
With the variety of pool covers out there, we need to shop for something that will fit our budget, right?
The truth is, many items that stores offer are so much more expensive than they should be, with the lots of fees coming from the handling cost.
Some even offer next-day delivery, but of course, the next-day delivery applies a certain cost.
If you are looking for an affordable pool cover, there is a lot on this list that will not break the bank. They are also durable and effective.
But, if you have the money to spare and are looking for an amazing bang for your buck, feel free to order something much more expensive.
---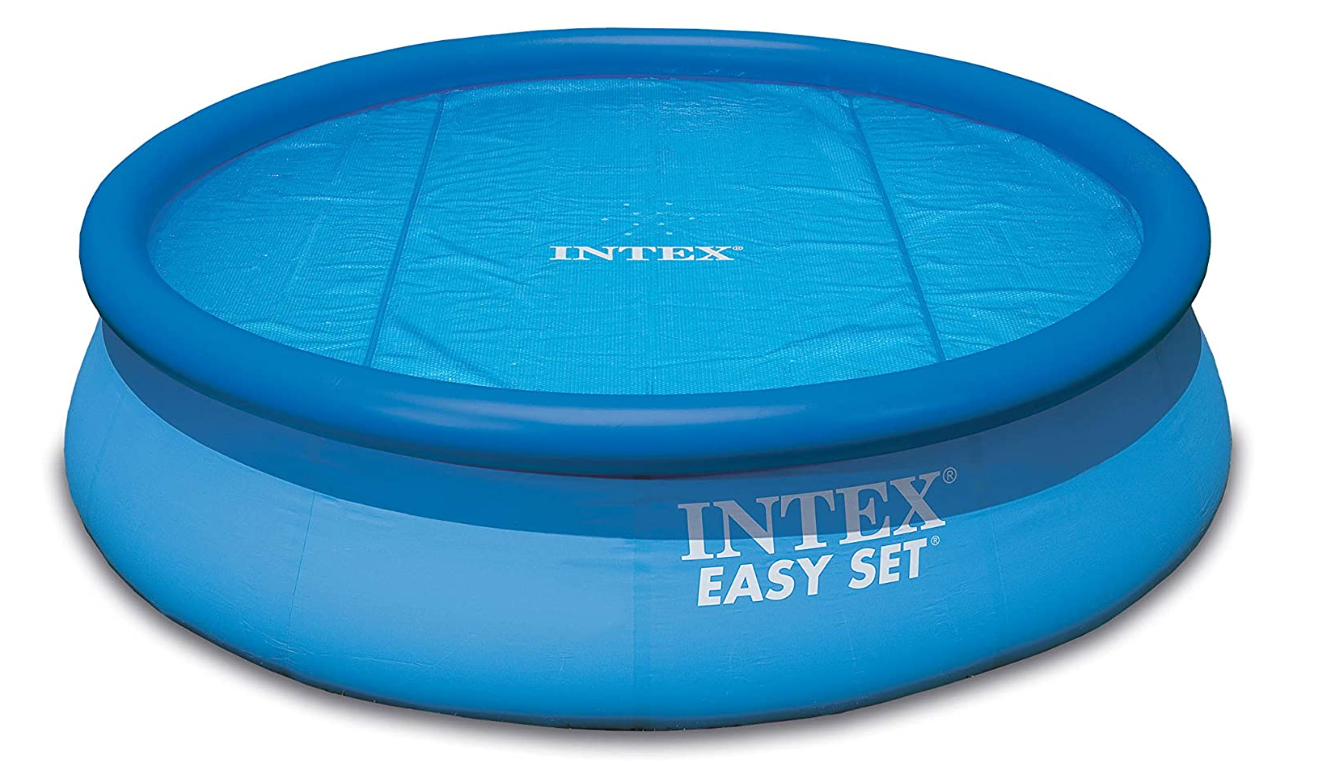 This affordable pool cover is durable and effective and has a lot of extra features.
For one, it is packed with UV inhibitors that will protect your pool water from the sun and reduce evaporation by 95 percent.
It is also Canadian PMRA-registered, so you can be ensured of the quality of this solar cover. This will surely keep your pool warm!
Intex Easy Set Solar Cover – An Overview
"The Intex family of companies is dedicated to developing and manufacturing the highest quality products that not only provide the best value in price, but are innovative, fun and exciting."
Pool cover helps keep pool water warmer
Helps protect pool from debris
Designed with central drainage holes to prevent rainwater from pooling on cover
Light-weight and easy to use and store
Fits 16′ Easy Set and Framed Pools
---
Some Final Words
An above-ground pool will need safety covers during both summer and winter.
We want you to have the best time of your life every time you go inside the pool. That's why it's so important for you to have ground pool covers.
Did you learn something about ground pool covers from this article? Share it with us by writing your thoughts and experiences in the comments section below!