Safety around the swimming pool is a great deal for everyone, from children to adults. As an enjoyable and refreshing activity, swimming is an excellent way to cool off on hot summer days or to stay in shape all around the year.
However, it is crucial to recognize that swimming pools pose several dangers. Drowning is one of the leading causes of death for young children, and a considerable number of kids suffer injuries or accidents in or around swimming pools every year.
Several tips can be followed to keep the kids safe from drowning in the pool. These involve using proper pool fencing and barriers, always supervising children around the pool, being aware of potential hazards or avoiding diving in shallow water etc.
This article will focus on what needs to be done when it comes to safety in and around your swimming pool.
---
Safety Tips Around Pools
Safety is of great importance when your children are playing in the pool or just swimming in the pool. Let's check some common guidelines and tips for letting your kids enjoy the pool.
Don't Leave Kids Unattended
Leaving children unattended whilst they are swimming or playing in the pool can be one of the causes of children drowning or getting injured swimming.
Keeping an eye on the kids when they are enjoying their time in the pool will save you from worrying.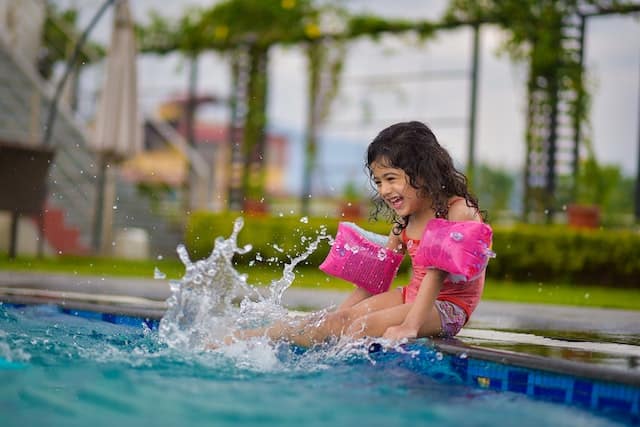 At what age can I leave my kid unattended at the pool?
No kid regardless of their age should ever be left unattended at the pool. Under some conditions, even experienced swimmers are at risk of drowning.
Children should swim with adults who know what to do in an emergency. When an accident happens, pools, lakes, and beaches can be hazardous.
Children can sometimes encounter a situation that they do not know how to handle during swimming.
In this situation, a person who needs to be with them can help them to get out of a difficult state. It is recommended that parents not leave their kids out of their sight at the pool.
Teach Your Kid How to Swim
Teaching kids how to swim beforehand can be a solution to making sure they can enjoy the pool safely.
Booking your child in for some swimming lessons will set them for life and reduce the chance of something unfortunate happening in the water.
Keep Away From the Drain
When children are playing in the pool, it is vital to keep a check that they do not go near the drainage point of the pool as they can pose dangers for the kids when they are swimming.
These drainage points in a pool can be a suction to filter things out of the pool water. If a child gets too close to drainage points they could get trapped underwater. 
Don't Run
Running around the pool can cause your child to fall. The edges of the pavement are slippery. Advising your kids to walk at a steady pace to reduce any chance of them falling is recommended. Most public pools have a no running policy in place.
No Diving in Shallow End
No diving in the shallow end is another very important aspect to keep in mind. In most cases, many spinal or head injuries are caused by diving into the swimming pool's shallow end.
This trend is also being seen in many children. Pools tend to have their depths marked clearly on them.
---
How to Install a Child Safety Fence Around a Pool
Child safety fence installation is another way of securing your children from the risk of drowning or getting injured while swimming. The most secure pool fence is a whole circle and most people follow the design of the deck that surrounds the in-ground pool. 
But, based on the arrangement of your deck and pool, you may not need to surround the pool. For tiny backyards, split the yard and run a secondary fence from side to side across the yard. This can help a lot in child safety in pools.
Here is how you can install a fence around a pool:
Draw a chalk line parallel to a precisely measured fence line.
When you've designated the deck, make sure you have an adequate pool fence.
Choose a starting location, then use the provided template to indicate the first four holes that need to be drilled.
Drill the holes at the right point and clean up any ceramic dust with water, a leaf blower, or a humid vacuum.
Compress the post sleeves into the drilled holes.
Go to the next fence section by placing fence portion poles into sleeves.
---
Our Top Pick for A Child's Pool Fence
Our top pick for a fence for kids' safety as a pool is the Happybuy pool fence gate.
Firmly attach the fence to the ground around the pool and it will withstand any bumps from playful kids. Extremely sturdy and easy to assemble, you will have the fence up in no time.
Happybuy Pool Fence Gate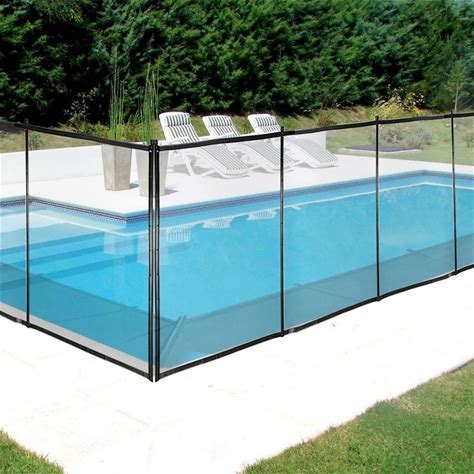 High-quality Premium Construction: The in-ground fence is composed of lightweight and sturdy 1000D powder-coated aluminum foot tube and 340gms grid fabric that will not crack easily. Aging- and wear-proof.
At 4 feet in height, you can keep any pets or small children away from the pool. Lock the gate easily and keep your kids out to reduce the chance of anything unfortunate happening.
---
FAQs – Tips for safety in and Around the Swimming Pool
Are outdoor pools safe for children?
No, outdoor pools are not considered safe for children as there are certain factors taking children to outdoor pools can be dangerous. Temperature, entry and exits, currents, physical hazards, and weather, etc. to name a few. These factors can play a vital role in causing some sort of injury or worse. 
Will armbands keep my kid safe in the pool?
No, armbands will not keep your kid completely safe in the pool. Most armbands are designed in such a way that they focus on teaching the incorrect vertical swimming posture rather than the right horizontal swimming posture. Potentially restricting the movement of the child's arms. This eventually causes the child to not swim properly in the pool.
What equipment should I have to ensure pool safety?
– A fence at least four feet high around all sides of the pool with a locked gate to keep children out when there is no supervision.
– Life rings, safety fences, and pool covers for added protection.
– First aid kit and rescue equipment such as a shepherd's hook or life hook.