Is your swimming pool ready yet for this summer? What? Is it NOT READY yet? What's wrong? Do you need to get a pool filter?
Then you better get the BEST one! Utilizing pool filters will make your swimming activities safer, fun, and less risky!
---
First Things First: What Does a Pool Filter Do?
The gist of how it works is this: Each pool filter is utilized with a pool pump to CIRCULATE water flow through it and filter out the junk.
A pool filter maintains clear water in your swimming pool, and it gets rid of oil, dirt, debris, and algae spores!
This is also referred to as the FILTRATION system. Usually, the bigger the filter, the better it works.
And, it's completely fine to have a larger tank and a small pump if your swimming pool does not need it.
What in the World Is a Micron?
A pool filter determines the size of the contaminants that can be removed in microns. It's short-term for a micrometer.
A micrometer measures one-millionth of a meter. Picture out tiny particles about 50 microns or about 0.5 millimeters in diameter, but some substances are smaller.
---
Our Top 8 Best Pool Filters for Clean Water
Here are our TOP PICKS that can give you a clean pool for this upcoming summertime!
Source: Amazon.com
This specific cartridge filter by Hayward has some favorable features:
It can be compared to DE filters but without the multi-step care and maintenance
The result is clear and sparkling water but with less work
You can get it at different capacities, depending on what your pool needs
It offers 120 square feet of filter media
Its filtration rate is up to 120 GPM which makes it ideal for in-ground pools with 30,000 gallons of water capacity
The name already speaks for itself! This Hayward filter prioritizes making the tub of water crystal clear so you can swim.
A low-maintenance cartridge filter keeps your pool clean and looking sweet all summer long!
While other filters need maintenance like frequent backwashing and regular cleaning procedures, this cartridge filter only needs a periodic rinse between filter replacements!
This SwimClear Plus filter has no bolts in its lid, making the cartridge easy to access and maintain without a single struggle.
---
Pros and Cons – Hayward WC31200 SwimClear Plus Cartridge Filter
Pros:
Low maintenance
Clear and sparkling water
120 square feet of filter media
---
2 – Carvin Laser 22.5 Inch Above Ground Pool Sand Filter – Best Value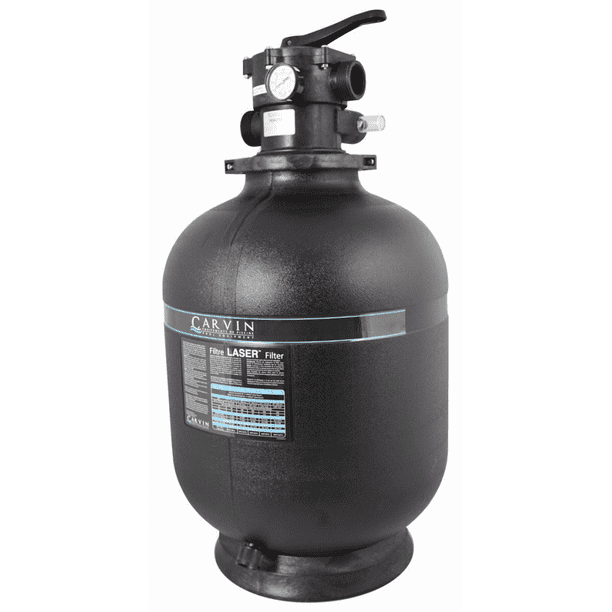 Source: Walmart.com
Its got a few VALUABLE features:
Allows a higher flow rate for water
Better filtering with a 20 GPM
Efficient backwashing
A pool pump that has a 7-way valve that can easily be adjusted for different functions
It comes with a drain located at the bottom of the tank to make it easy to empty the filter for sand changes or to winterize.
Use a sand filter to filter your way to a cleaner and clearer pool of water in your above-ground pools.
The Carvin Laser Sand filter depends on ABRASIVE sand as its filter media to keep your pool sparkling all day long!
The filtration system draws water evenly across the surface area of the deep bed of sand in the filter tank.
It is built with durability with a molded plastic UV and corrosion-resistant tank.
Like all sand filters, it demands occasional backwashing, usually indicated by its pressure gauge.
The sand will also need to be replaced every 5 years, but the result will surely pay off when it filters out up to 21,000 gallons of water before you do.
---
Pros and Cons – Carvin Laser 22.5 Inch Above Ground Pool Sand Filter
Pros:
Easy to winterize
Has a 7-way valve
Even the distribution of water
Allows higher water flow rate
---
Source: Amazon.com
Saving extra for more drinks by the pool this summer? This cartridge filter has you covered!
JLeisure's above-ground pool filter can do a job well done at $130!
An above-ground pool filter with an 800 GPH pool pump can work with pools with 1.25-inch diameter hose fittings.
It comes with two (2) hoses in the package and a durable filter pump made of hard plastic.
It has a 25-foot long cord, it weighs 5.5 pounds, but it is very easy to assemble. If you're looking for something on the budget that is easy to put in together, this is it!
It filters up to 800 gallons of water, which is also easy to clean and can be used for longer periods before replacing it!
---
Pros and Cons – JLeisure 800 GPH Pool Filter
Pros:
Affordable
Easy to assemble
Durable
Comes with 2 hoses
Cons:
Only filters up to 800 gallons of water
---
Source: Amazon.com
Pools that come in all shapes and sizes deserve sparkling crystal clear water!
Small pools are also targets of ALGAE GROWTH as well as large pools. For pools with 6,000 gallons of water or less, consider this filter by Index!
This Krystal Clear Filter Pump is popular for circulating 1,000 gallons of water per hour while providing filtration using Intex Type A cartridges!
Its pump house opening holds a disposable cartridge that lasts for 2 weeks!
An air release valve presents too much pressure from building up inside the pump and filter, which slows down the maximum flow rate of the water.
Setting up the pump and filter is easy too! You just:
Attach the 1.25-inch hoses to the fittings
Then you attach the fittings to the intake and outtake holes in the pool
So if you have a small pool for this summer, better get one NOW!
---
Pros and Cons – Intex Krystal Clear Cartridge Filter Pump
Pros:
Easy to install
Disposable filter
Combined pump and filter
Cons:
Pool filter only lasts for 2 weeks
Only works with Intex pools
---
Source: Amazon.com
You get a 2-in-1 with this filter because it's great for large swimming pools and inground pools!
That's RIGHT! Hayward strikes again on this list, but don't be surprised; Hayward has an amazing streamline of options for pool filters.
The 120 square foot filter is built with a GLASS-REINFORCED COPOLYMER and a strong, durable plastic cylinder.
It also has a large cartridge for greater durability and flow rate. A bonus? It has an injection-molded tank!
The injection-molded component adds up to its overall strength and prevents corrosion. Your pool water will be clean in a snap!
Its single knob connected to the filter head to the tank takes out the need for clamps or bolts.
Plus, the head rotates so the cartridge, and it has a manual air relief valve and pressure gauge that are easy to reach.
---
Pros and Cons – Hayward W3C12002 StarClear Plus Cartridge Pool Filter
Pros:
Great for large pools and in-ground pools
Large cartridge
Has an injection-molded tank
---
Source: Amazon.com
Specifically designed for above-ground pools, this filter system includes a pump, a platform base, a filter clamp, and a union connection for easy maintenance.
DE filter pumps use a filtration grid covered with Diatomaceous Earth (DE). The advantage is that DE offers outstanding filtration compared to other filters.
This has a 1.5-inch hose package, and the filter tank won't rust inside because it's also injection-molded for HEAVY-USE!
The filtration system can catch particles as tiny as 2 microns. Hayward uses a patented Flex-Tube pool filter system to help ensure that residual dirt and DE do not pile up in the tube.
The Flex Tube extends the filter cleaning cycles with zero backwashing needed. Even if this filter pump can be harder to clean, it only asks for a little attention.
Plus, A handle makes it easy to purge the tubes, known as "bumping" the D.E filter.
---
Pros and Cons – Hayward Perflex Diatomaceous Earth Filter Pump
Pros:
Stronger return jet flow rate
Self-venting
Intended for heavy-duty use
Corrosion-free tank
Easy maintenance
Works for 40 square feet in all pool types
---
Source: Amazon.com
If you have a wide inground pool, this Pentair Clean and Clear Plus filter will work better!
It gives superb filtration for pools for about 57,600 gallons of water. It is also an easily REMOVABLE cartridge for more convenient cleaning in the surface area.
Pentair's fiberglass body resists corrosion to add durability to the product. The filter also offers consistent airflow that gathers more air accumulation too!
Its larger POLYESTER cartridge filter size accommodates a lot more build-up and particles. It ensures thorough and practical cleaning of water flows.
The unit defeats the purpose of backwashing! Backwashing who? You need to take the cartridge out and run the hose.
Another bonus is that it requires LESS water consumption for cleaning!
---
Pros and Cons – Pentair 160340 CCP320 Clean & Clear Plus Filter Cartridges
Pros:
Easy to drain and clean
Corrosion-resistant
Less water consumption when cleaning
Accommodates more build-up and particles
Cons:
Has no pump-to-filter adaptor included
---
Source: Amazon.com
This Rx Sand filter is also the best pool filter because it's ERGONOMICALLY designed for your in-ground pool!
It filters up to 16,000 gallons of water with its one-piece blow-molded tank with a well-labeled six-way top-mount multiport valve.
The core of this Rx sand filter is the one-piece blow-molded tank located at the top of the universal base that is suitable for all pumps!
This sand filter also offers exceptional filtration and is VERY EASY to install, like a breeze!
Its pump only asks for low operation and maintenance costs, and its filter efficiency takes out particles as small as 3-5 microns.
Unlike most filters, the Rx sand filter features luster balls that are CLOG-RESISTANT, and it just needs less backwashing for adequate maintenance.
This filter is a good replacement for fiberglass, glass media, and sand filters. It holds 110 pounds of sand and a 3-year manufacturer's warranty against defects.
---
Pros and Cons – Rx Clear Radiant Sand Filter
Pros:
3-year warranty
Only needs minimal backwash
Compatible with all pools sizes
Clog-resistant luster balls
6-way multiport valve
Cons:
Filter media are sold separately
---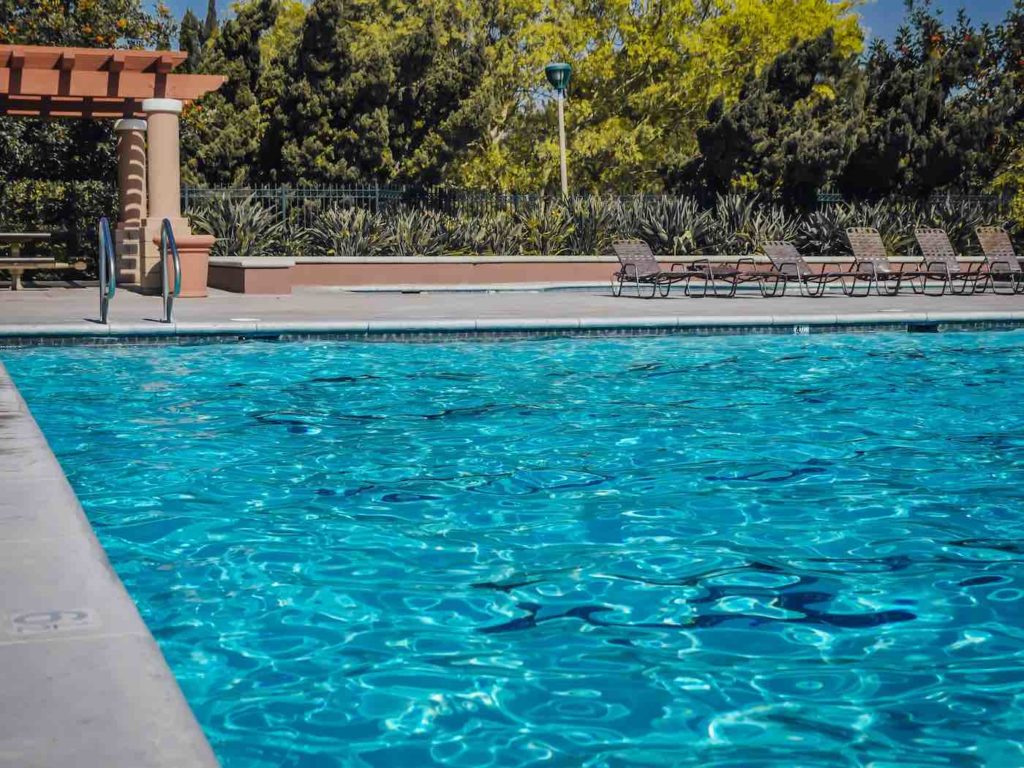 What Are The Types Of Pool Filters?
You are mistaken if you think you already have all of the pool equipment you need for this summer.
Knowing all the different pool filter types will help you choose which pool filter is better or choose the right pool filter for you!
Before diving in, know that a properly sized filter is the first and most important thing most pool owners must consider.
Pool filters remove debris and dirt that permits chlorine, bromine, or other sanitizers to prioritize destroying bacteria. This is especially important to understand if you're considering building your own pool.
---
There are three (3) kinds of pool filters: sand filters, cartridge filters, and D.E filters, all capable of maintaining water.
There is no precise best pool filter because everyone has their preference, but this can help you figure out the one for your pool!
Sand Filters
The average cost for above-ground is – $200-300, while the average cost for in-ground is – $500-800.
The traditional known type of filter is a sand filter. Out of the three types, sand filters are also known to be the LEAST EFFECTIVE.
They filter out substances that range from 20-40 microns which are not so small! Sand filters use sand to take out dirt and organisms in your pool water.
Once the debris capacity is full, the internal pressure inside the filter increases!
Sand filters have two types: top-mounted and side-mount filter types. A top mount sand filter is less expensive and only takes up small spaces than a side-mount filter.
The latter makes it a lot easier to change the sand because it does not have disconnected pipes.
How Does A Sand Filter Work?
The sand is stored in a hollow tank supplied with a multiport valve that has multiple choices for you, such as vacuum, filter, waste, and recirculates.
It sucks water through a filtration tank filled with sand, and just like D.E filters, it needs frequent backwashing to clean out the sand that clogs up the pipes.
Pros:
The easiest filter to operate
Cheaper than other filters
Long-lasting
Low-maintenance
Most compact and affordable
Cons:
Requires occasional backwashing
Backwashing can change pool chemistry lower water levels
Removes 20-40 microns only
Lower filter capability
Extra expenses on chemicals in the water
Sand filters are for pool owners who don't mind backwashing, so if you are that type of pool owner, this is your guy!
Cartridge Filters
The average cost for above-ground is $500-1000, while the average cost for in-ground is $250-550.
This is the second type of filter you should know about. Cartridge filters have the advantage of having pleated polyester filter media.
They maximize the square foot of the filter because the larger filter you have, the more particles you can filter out!
Cartridge filters utilize replaceable filters that capture dirt and debris as it passes through.
They collect dirt, debris, and other substances as small as 10-15 microns. Plus, it's easy to maintain because you can clean cartridge filters with a garden hose!
Cartridge filters are your new BFFs if you have a smaller pool and would only want little maintenance going down.
How Does A Cartridge Filter Work?
They work best at a slow flow rate. An enormous sized pool pump has the potential to propel water directly through the cartridge filter and bypass the filtering process at once!
You mustn't OVERSIZE your pool pump. You will also know when it's time to clean when the pump becomes dirty or the pressure in the filter rises.
Each time a pool cartridge gets cleaned, its filtering ability becomes lower. Eventually, oil and debris will build up and be IMPOSSIBLE to remove.
These cartridge systems need to be replaced every 3-5 years, and the replacement price would also vary depending on the pool.
Pros:
Energy efficient
Easy to clean and maintain
Conserves water
Has a finer filter media than a sand filter
Cons:
Heavy algae buildup can clog the filter cartridge
Needs frequent rinsing of the filter cartridge using a garden hose
The high price range for cartridge replacement
Does not work well in larger pools
Works at a slow flow rate
D.E Filters
These filters are not typically made for above ground pools
The average cost for in-ground pools is – 500$-1500$
Diatomaceous filters are the last among the filter types for this lesson, the best way to also filter your pool!
Even though they are a lot similar to sand filters, their take on filtering is also a lot more different.
D.E filters use fossilized remains of diatoms which are naturally occurring sedimentary rocks crushed into a soft white powder.
These can take out particles and debris as small as 2-5 microns. Out of all the three types, this one provides the most thorough cleaning.
How Does A D.E Filter Work?
It has a larger tank with fingers or grids inside covered with DE powder. The powder filters the pool water like sand but does a better job!
This tank permits water to pass through, and like sand filters, they need to be cleaned through backwashing.
You can monitor your large pressure gauge to determine if your filter already needs backwashing.
Its filtering system also has the advantage that it pumps water less in a shorter time that is also less sanitized.
D.E filters are considered the most superior type of pool filtration but are also the ones that are expensive and require the most maintenance.
Pros:
Best filtration ability and pump flow rate
Can withstand a few months without backwashing
Grids can last several years
Cons:
Must have a D.E media in your grids
Higher cost for maintenance
Harmful D.E powder
Recap: Our Top Choices
Here are the top choices provided in the article!
These rank our number 1 if you want to get that CRISP and CRYSTALLIZED water for the summer!
With its pump's flow rate at 120, you can filter 30,000 gallons of clean water with less work and maintenance.
Carvin Laser 22.5 Inch Above Ground Pool Sand Filter – Best Value
Our most valuable pick can filter up to 21,000 gallons of water with NO HASSLE!
It's durable, effective, and has a 7-way valve for different functions to keep your pool sparkling!
Eyeing for a filter on the budget? YOU GOT IT!
Our best budget pick can filter at 800 GPH for a low price, is very easy to maintain, and will last you a lot of summers!
Bottom Line
There you go! We've included the best and only the best so you can have the greatest memories with summer!
Choose wisely and properly so that you, your friends, and your family can have fun!